Road Applications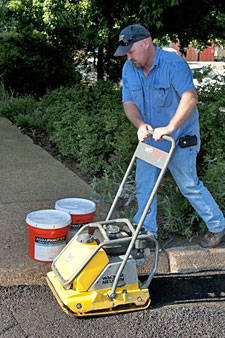 Aquaphalt drastically reduces costs, environmental risks, and traffic congestion. Not only is Aquaphalt easy to use even in wet and cold conditions, but no special preparations are required, and roads may be open to traffic immediately. It also has a 12 month shelf life. And did we mention its skid and rutting resistance?
Aquaphalt is the right choice for enduring repairs.
In a recent Virginia Department of Transportation study of the use of Aquaphalt, the site of repair was visited routinely in the first two to three weeks of service to make certain it performed adequately with added inclement weather. The primary roadway distresses of great concern for typical cold mix patching materials are bleeding, rutting and dishing (further compaction under traffic), debonding, raveling and pushing and shoving. After visiting once a month to-date, VDOT officials have found absolutely no signs of pushing, shoving or rutting in the patch—all dangers associated with a weak and unstable mix.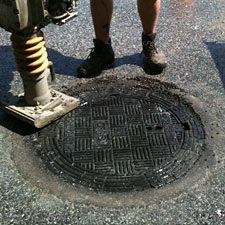 Aquaphalt is the first permanent asphalt repair available in the U. S., and it is the cost-effective solution to various repairs:
Asphalt roadway patching
Pothole repair
Concrete road repairs
Manhole repairs
Utility cuts and repairs
Driveways, pathways and tennis courts